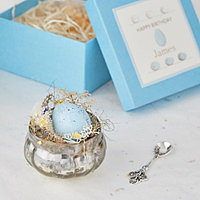 Welcome to Chantal Devenport Designs.
I specialise in handpainted and original works of art that are exclusive and unique. I combine a love of traditional personalised gifts with fun and quirky original items.
I have a deep commitment to original art and design. My work is well known for its detailed painting, intricate artwork and meticulous attention to detail.
My passion in the last year has been for miniature magical 'worlds within worlds'. I want my gifts to enchant and surprise, to make the magical moment of giving a special moment in time. My latest creation are the Secret Real Gift Eggs. A message hidden in a real egg in an exquisite handmade box.
All the decorative artwork and personalisation is done free hand by me, with a miniature brush and paint. I do not outsource any of my artwork. As such, each piece you receive is unique and painted to order for you.
My designs are influenced by l the things I love: soft colours, spring flowers, long hot summer days, imaginary tiny worlds, handmade art, intricate detailing, animals, beautiful packaging.....I hope you enjoy my gifts.
Love Chantal