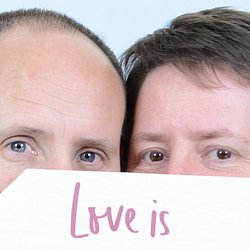 Welcome to Chalk and Cheese!
Here you will discover an enviable collection of exclusive personalised gifts and unique mementos that are just perfect for finding that extra-special item for your loved one's special occasions.
Husband and wife team Michelle and Chris are fully embracing their differences to successfully grow their family business, previously known as Personalised at Pippins, in to a brand new and exciting direction. Where one likes tea, the other drinks coffee and, while one may need to work in a creative mess, the other is most definitely a lover of organised bliss. By celebrating these fantastic quirks, this wonderful couple know how to work harmoniously together to create exciting, timeless gifts.
It was in March 2015, after retiring from 20 years dedicated to the Ambulance Service, that Michelle's husband first joined her at Personalised at Pippins, which Michelle had lovingly developed during her maternity leave. After over a decade of trading as Pippins, the happy couple are now working tirelessly and enthusiastically together on their new and exciting direction as Chalk and Cheese, alongside their adorable (but usually sleepy) Jack Russell Heidi, to provide a shopping experience that simply cannot be found on the average British High Street.
At Chalk and Cheese, Michelle works to create the beautiful and bespoke designs that are treasured by their happy customers, while Chris is responsible for bringing them to life through their expert engraving service in their workshop. The high-quality finish of all of their lovingly hand-picked items provides a brilliant collection of exquisite, joyful giftware that you will feel proud to wrap and present to your nearest and dearest.
With their ever-expanding range already available for you to explore online, this creative couple will also be opening their wonderful bricks and mortar shop in Oakley, Hampshire in early 2017.