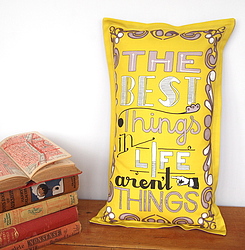 CecilyMae Handmade is the studio of versatile Leicester based designer, artist and maker Joey Hurdley. Having spent a lifetime drawing, making, imagining, doodling, sewing, crafting and generally creating, Joey founded CecilyMae Handmade in 2011 as an outlet for her restless hands and insatiable urge to make make make!
Joey works in textiles and paper to produce fresh, happy and original stationery, furnishings and art. Products include cushions, cards, giclee prints, hand-pulled screen prints, lino prints, and unique papercuts which can be personalised to order. Everything is handmade with love and care from a small sunny studio.
CecilyMae produces original, quirky, fun, beautiful, eclectic, lovely things for the home. Joey is inspired by colour, typography, humour, vintage styling and nature to create ranges which will brighten up any room and bring a smile to anyone's face.
CecilyMae Handmade's products have been featured in several national magazines and style blogs including Ideal Home, Good Homes Magazine, Your Home, House Beautiful, Style at Home, Landhaus Living, Reloved, CraftSeller, Print and Pattern Blog and Bambino Goodies.