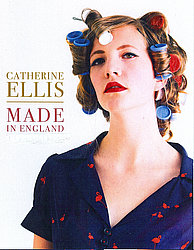 Designer Catherine Ellis launches her exciting new womenswear collection all of which is made in England. The range consists silk blouses, printed tea dresses and skirts sat back with key tailored pieces. This bespoke collection offers stylish women feminine garments with a fun, vintage twist.
As all her garments are designed in house the customer is offered a unique collection that stands out from the crowd! She designs a lot of her own prints, using high quality fabrics and therefore most pieces are limited edition.
Catherine has a passion for designing women garments that make them both look and feel great. This inspired her to set up her own on-line fashion label 2 years ago after working in the industry for over 10 years. As the on-line brand has grown from strength to strength she opened her first boutique earlier this year in Oxfordshire.
She is proud that all her garments are made in England, celebrating our great textile heritage. Having seen many UK factories close down and production moving offshore, she is keen to bring manufacturing back to the UK and she designs and makes everything locally.
Happy shopping!