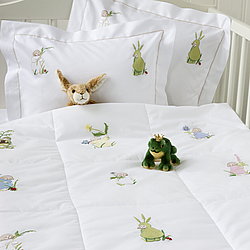 A handkerchief in a store in Vietnam, memories of childhood tales, my children's love of all things sweet, the name of a house I once lived in – these were some of the inspirations behind Carmelia Linen.
Timeless designs are skillfully and carefully embroidered by hand on 100% pure Egyptian cotton, spun and woven with the smoothest 300 thread count or worked in the softest wool to produce classic designs that are forever wearable.
Each piece of our collection is individually created by had to be treasured for years to come.
Because nothing is more special than a child's dreams.