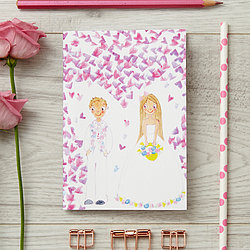 Welcome to Caragh Susan, an illustrative brand and treasure trove of beautiful, hand-painted designs, available as customised keepsakes for the loved ones in your life. Formerly Party Bags London, we feature original illustrations by Caragh Buxton, and specialise in personalised and unique gift ideas and commemorative illustrations, with complementary stationery and wrapping. Our products are designed with thoughtful, loving care and attention to detail, adding the perfect personalised touch to your next special occasion.
Our studio in South London is home to a cast of sweet and soulful characters: cheeky, colourful and cute. With loads of personality and a hint of magic, these characters transform, becoming a reflection of your excited birthday girl or boy, your newlywed sister and brother-in-law, or your best friend who's just about to become a mum! We also offer customised gift and party bags for a myriad of occasions, with all items individually designed and sprinkled with joy to bring a smile to your special person's face.
Both UK and international delivery are available, with options for express postage and bulk orders. And if you're looking for the perfect party bag accessory or personalised keepsake, our range of notebooks and cards will add a dash of fun and colour that lasts long after the streamers have been cleared away.
We invite you to explore our store, and the hundreds of illustration options we offer in occasion, appearance and theme.
Find your favourite character, make them your own, and we'll make sure they find their way home!
All artwork © Caragh Buxton