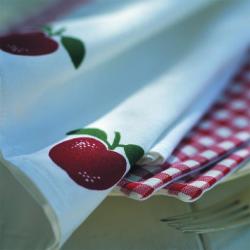 Capewest is a business set up by Nita Stewart specifically to offer an exclusive range of fine handcrafted kitchen and table linen and children's bed linen to discerning customers in the UK, manufactured by Lisan Decor of South Africa - a business empowering women of formerly disadvantaged communities.
All items are handmade by a dedicated team of local craftswomen, all adults being paid a fair wage and as such are FAIR TRADE products made using only the finest quality, locally manufactured pure cotton.
All the designs are exclusive to Lisan Decor and the products are silk screen printed by hand and manufactured on the premises in their Dorp Street workshop, in the historic town of Stellenbosch, the heart of the Cape Winelands.