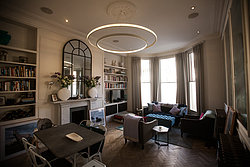 Cameron Design House has been creating unique, visually stunning lighting since 2011. The studio was founded by designer Ian Cameron, who combines his Scandinavian Finnish heritage and London upbringing to create bespoke lighting that is uniquely natural in design. Using a combination of natural and man-made materials, the studio produces beautiful, contemporary designs that maintain a strong sculptural aesthetic. Each and every light is meticulously designed and produced in the Cameron Design House studio and showroom, located in North West London UK.
Cameron Design House is a young Business thats is growing at a comfortable rate, we pride ourselves on customer service and satisfaction.
Suomi design meets London living.