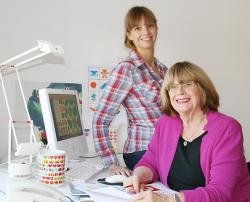 A cult classic reborn... byGraziela launches first collection and collaboration with Thorsten Van Elten

byGraziela is a stunning collection of bedding and interior accessories for children that has been created using the iconic 70s designs of German designer, Graziela Preiser.

Co-founded by Graziela and her daughter Nina for parents hungry for contemporary, retro chic, yet wonderfully childish design, the first collection is a reissue of the '1,2,3 design'.

Also new for 2009 is an exclusive collaboration with much loved fellow German, Thorsten van Elten. Thorsten has revisited the iconic 'vegetables' design, and transferred it from fabric to ceramic.