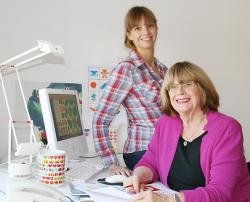 byGraziela is relaunching Graziela Preiser's iconic designs which were hugely popular in the 70ies in Germany.
During the Seventies and Eighties Graziela Preiser produced illustrations for her own range of fabrics, bedding and china, which were extremely popular. You would see her designs in nearly every German household.
Graziela Preiser worked as a successful graphic designer, illustrator and creative director for decades. Next to her job she created fabrics, bedding and china for several well-known lifestyle magazines. The typical Graziela-patterns became particularly popular with regard to the magazine "Brigitte" for which Graziela created the whole fashion range. Also other established companies such as Rosenthal, Dibbern and Dierig produced products with Graziela's designs. The name Graziela became a successful brand that inspired not only children but also parents. The typical Graziela designs are bright and colourful as well as clear and striking. For her outstanding work Graziela Preiser won the following awards: Gold medal of the 'Industry Exhibition' in San Diego, USA, of the 'Academia Italia' and of the German Art Director's Club.
Nina had a colourful childhood in Hamburg, Germany. Therefore, like her mum, she developed a passion for print and colour and studied graphic design. By the resurgence of retro style and the arrival of her own children inspired she relaunched her mum's renowned designs. Renamed byGraziela, the label has gained a cult following. 'We get lots of emails from mothers and grandmothers who are absolutely excited because they link my mum's design to their childhood. They want their children and grandchildren to have their own wonderful memories with our cult design', says Nina.