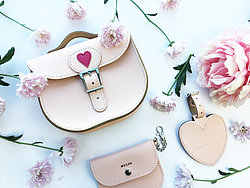 When we say our bags have vintage heritage, we really mean it. Back in 1967 master craftsman Peter Jones made a leather cash bag for his local milkman, Toby. In 2012, Toby brought his bag back for a replacement strap. With 45 years of history in our hands, it was time to give the vintage bag a modern makeover using the traditional skills we're so proud of.
Our love affair with leather goes way back and now we're bringing it to a new generation of style lovers and vintage coveters. We use traditional skills to make bags that match heritage with high fashion – there's even a pocket for your iPhone. Brit-Stitch bags are lovingly handmade in Britain using the finest leathers in a rainbow of colours. Our team makes sure every bag is perfect – seamless stitching, beautiful buckles and a clasp that you'll keep clicking (really, it's quite addictive). And yes, they smell divine.
Our bags come in a range of sizes – one to suit you whether you're lugging around a laptop or just a lipstick. Staying true to tradition is what makes Brit-Stitch different, and it helps us create bags our customers adore.