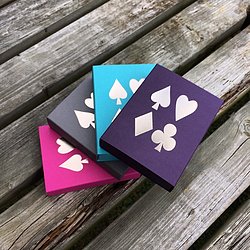 At Bridge in the Box we love playing cards!
We set up our company in September 2009 and are very proud of our beautiful and contemporary products which we have designed and produced in England. Our products are high quality. They are unique in style and colour. The playing cards are perfect for all card games, make perfect presents and are also ideal to pack in your holiday suitcase.
Good for the hard-to-buy-for great aunt or a trendy twenty-something - a unique gift. Playing cards encourages families to spend some digital downtime together.
We also stock a range of accessories to complement our cards: pencils, score pads, boxes of coasters and bridge cloths, aprons, cups, keyrings and correspondence cards.