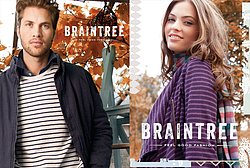 Braintree brings you beautiful and sustainable fashion, using the highest quality fabrics. Our range of clothing is synonymous with classic, casual and wearable fashion all made using sustainable and environmentally sound fabrics.
Our fabrics of choice are hemp, bamboo and organic cotton all of which are grown organically and have little impact on the world around us. We use the newest techniques to bring you lush knitwear, soft jersey and incredibly comfortable and wearable clothes.
While we are passionate about the world around us and changing people's perceptions of eco clothing, we are also interested in the greater implications of producing "sound "clothing. Our garments are all made under fair and ethical conditions, ensuring that while our clothes are organically grown they are also ethically sound.
Why not browse through our latest collection and view the great styles we have on offer. And remember to wear what the world can afford.
You can be comfortable in the knowledge that with us we can all make a little bit of a difference to the world around us.