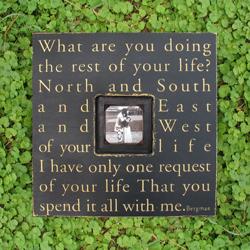 Here at Box Brownie Trading we're about the beautifully unique, choosing and creating natural, quality accessories. We aspire to provide our customers with beautiful home accessories that are lovingly handcrafted with an evocative blend of passion, skill and nostalgia.
Many of our products tell a story from distant shores. Our stunning solid signs, photoboxes and frames derive from the Deep South, inspired by lazy cotton fields, rustic grain sacks, natural reclaimed woods, earthy palettes and wise old words to warm the soul.....
We've roamed the sunny hills of North California for distinctive hand-embroidered textile designs that capture the vibrant beauty of our favourite cities and discovered coastal charm through exquisite driftwood designs.
If it is a unique or special gift you are after for an upcoming wedding, christening or special occasion we have a number of solid wood photoframes that can be personalised.
All of our products offer truly stunning and unique keepsakes.