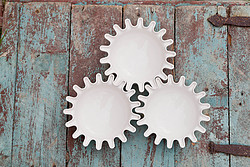 Do you find it difficult to find good quality, stylish and contemporary Welsh hampers, homewares and gifts?
Bodlon means 'contented, pleased or satisfied' which sums up the response of our customers to the stylish Welsh themed textiles, ceramics, enamelware, gifts and hampers in the Bodlon range.
All items in the range feature stylish and interesting design or typography, adding a unique and individual feel to any home. We specialise in products with Welsh language wording and quotes and items sourced directly from Welsh producers, but also have a range of items featuring fun, witty and sentimental messages within the design.
So whether it's kitchenware or cushions, posters or pottery, and whether you live in Kensington, Kuwait or Kidwelly, we're certain that you'll find something at Bodlon that will help make your home a cartref.