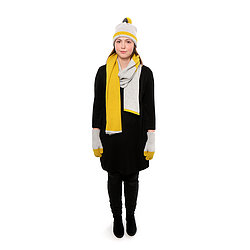 Welcome to Bob&John Knitwear.
Bob&John is the creation of Jonie Worton, born in Lowestoft, Suffolk. After studying for a MA in Fashion Knitwear Design the brand was born using the names of her Grandfathers'.
Jonie aims to create fun and funky knitwear for you and your home. The knitted fabric is designed and knitted using a Brother domestic knitting machine (called 'Morris'), from the cone of yarn in her Suffolk studio. She designs products that will personalise your environment and allow you to choose colours that will fit in with your home decor.
Her best sellers are the Knitted Letter Cushions and come Autumn/Winter her bright and cosy winter wear is extremely popular.
Every piece is lovingly designed, knitted and made by her in the studio with the customer in mind.
Jonie also welcomes custom orders. So if you have an idea in mind please feel free to contact her via the contact seller button.
Bob&John x