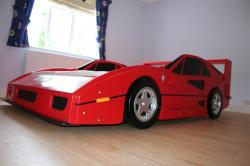 Bluewelll Theme Beds is a small family run company specialising in the bespoke childrens' beds market. All of our designs are unique and the beds are all made to the highest quality.
If you want to know why we see ourselves as amongst the best why not search the internet for childrens beds and see what you come up with! All mass produced and lacking in originality! We are different and make all items to order and can add personalisation touches as well.
For an idea of quality we have supplied a number of celebrities and well known VIPs including Tony Blair, David and Victoria Beckham, Amanda Holden, Katie Price, 2 Premiership club owners and some international footballers.
Not only do we make beds but also toy boxes and furniture including our unique and funky toy skip which can be fully personalised.
We look forward to making something for you!