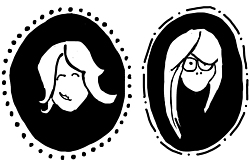 We share a love of books, drawing and painting, collecting interesting objects, travelling and generally being inspired by anything beautiful or unusual. With a passion for old-fashioned print on the page we are are endlessly inspired by the creative possibilities offered by rubber stamps.
We create bespoke rubber stamps from detailed hand-drawn images, personalised with individual details, making each stamp completely unique. Whether it's an Ex Libris book stamp for a budding book collector; an address stamp to put your mark on correspondence; a wedding stamp to help create the personal details on your special day; a unique illustrated stamp of your home for a special occasion; or a simple and fun way for kids to stamp their identity on artworks and other belongings, Bloomfield & Rolfe offer a bold and distinctive range of designs each with real personality.
Superb, personalised gift for any occasion, particularly life's landmarks - from Births and Christenings to milestone Birthdays and Retirements. If you love books and beautiful things as much as we do, our stamps are the perfect gift for you.