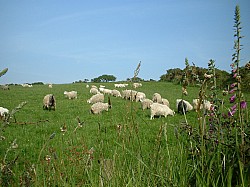 High on a hill in Cornwall, graze Angora Goats and rare breed sheep, happy and content amongst the lush grass and delicate meadow flowers.
The beauty and purity of this landscape, unsullied by the use of pesticides and herbicides, is reflected in the quality of the wool and mohair they produce. Processed without the use of harmful chemicals the resulting yarn is so incredibly soft; it is suitable for the most sensitive skin.
Blegan products range from comfortable, hard wearing socks to beautiful scarves and wraps. The clothing collection includes tailored items, in both traditional and modern designs. Blegan throws are most sought after by interior designers and are equally at home in a country cottage or contemporary loft apartment.
Blegan is rare today, in that the whole process from caring for the sheep and goats, the spinning, knitting and weaving of the yarn, to the creation of the final product is overseen by themselves, ensuring the highest welfare standards, the upmost quality and the flexibility to undertake individual commissions at the request of customers.