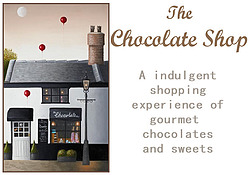 Welcome to The Chocolate Shop.
A shop based in the tiny conservation village of Churchtown, Southport, the dinky showroom come workshop nestles under the eaves of the Grade II listed shop which itself would look at home gracing the lid of a chocolate box. In the quaint old shop, dont forget to mind your head of on the timber beams. We sell a range of mouth watering delicious chocolates in boxes to suit all budgets. There are shelves with jars of traditional sweets for the sweet toothed individual young or old. There is a large table and shelves displaying gifts, with train whistles, swanee whistles, mouth organs, bath bombs, bath creamcakes, candles and painted tins which are ideal for some lovely chocolates.
Please take a look at our products.