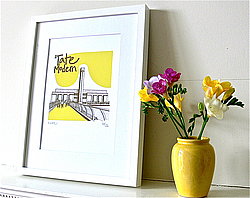 I am an artist based in Bath, but in love with buildings all over the world. I work in many differernt mediums, but adore the crisp, neat, clean nature of screen printing. All my images are hand drawn (not from photo shop) and then exposed onto a silk screen using photographic paint. The paper is hand cut, and the colours mixed by me. I hand print each individual image in the studio and only do a small print run of each subject, normally less than 35.
The Iconic Buildings series of screen prints brings together my love of architecture and colour - I hope you enjoy the result. I have been working on this theme for about a year, there are 18 buildings so far in the series - with more to follow. They look wonderful when grouped all together in simple white frames.
Ten years ago I left my event marketing career in New York/London & realised my dream of becoming an artist. I now run a gallery / interiors shop with my husband in Bath, selling our paintings & prints alongside Mid Century furniture.