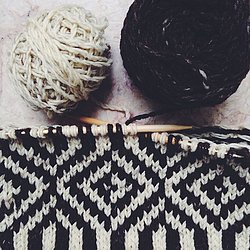 Making a Debut in 2012, Beulah-Home is geared to meet all our customer's needs for fashionable knitted homewares for the living space.
Our products are constantly reviewed and refreshed to give customers a choice of style, pattern and texture, whilst guaranteeing high quality standards.
We are inspired from fashion and interiors patterns and jacquards to create contemporary designs using traditional knitting manufacturing machinery.
We offer our customers a wide range of soft cottons, mordern colour and a fusion of natural and man-made yarns.
To meet every household's needs, our products include mordern knitted cushions and throws, fashionable knitted hotwater bottles and stylish yet soft knitted dog blankets.
It is our aim to inform our customers about the Beulah-Home ethos, and that by purchasing a product they are helping to revitalise the British knitting industry by in creating new jobs and investing in skills.
We're doing our best to support UK manufacturing!