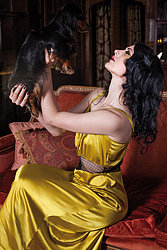 Betty Blue's was born out of the seeds of an idea that was sewn many years ago. Owner and Creative Director of the brand, Betty, has had a love of sleepwear, loungewear, lingerie and corsetry as well as all clothes that are utterly beautiful since a little girl.
"I remember watching black and white musicals with beautiful screen starlets in, with my Grandma when I was a little girl. Stars such as Ginger Rogers, Rita Hayworth and Jane Russell captivated me with their stunning gowns and I used to watch in wonder as the stars reclined elegantly in night gowns of shimmering satins, velvets and chiffons."
This is what sparked the idea of starting her own business. Why are there no glamorous, comfortable and snugly alternatives to sweat pants and hoodies? Well now there is at Betty Blue's loungerie! Betty's aim is to provide gorgeous girlies of all ages and sizes with snugly, and most importantly glamorous, garments to recline and relax in –just as those stars of Hollywood did in the 1930s to 1950s old fashioned films did!