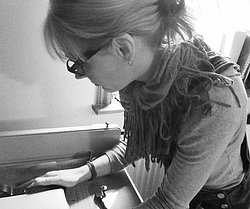 Hello and welcome to Betsy Jarvis.
I work from my little studio in Holmfirth, West Yorkshire where I combine a passion for design with a creative spirit to produce unique Personalised gifts and homewares.
During the design process I like to be able to create an ambiance around an item, a sprinkle of vintage inspiration to represent a bygone age, a pinch of Industrial chic to represent a modern, contemporary lifestyle or for a more homely mood I will add a dash of rustic charm, but always, without fail I add the most important ingredient that being a generous helping of care and attention to detail.
All my products are made to order using high quality materials, no two items are the same, this way you know that you are getting something totally unique. Every item, therefore has a distinct character.