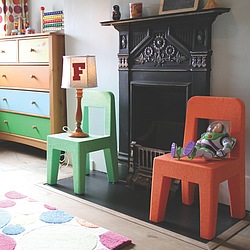 Belle & Vidére produce high end, handcrafted, exquisite lampshades and stands. B&V use traditional techniques and these mixed with the use of contemporary fabrics makes for some truly stunning pieces.
The exquisite Belle & Vidére shades you find on notonthehighstreet.com are limited editions, producing no more than six shades of the same design, ensuring customers have that exclusive touch.
The Varsity shade allows customers to personalise the piece with a specific letter choice making it a very special gift for any member of the family or special friend that appreciates fun, stylish and contemporary lighting.
Belle & Vidére shades are designed and created in the East End of London and believe in supporting like minded industries. Lamp stands are hand turned in England and supplies are sourced from the UK wherever possible.
Never able to resist a tempting new fabric Belle & Vidére will be continually adding new pieces so make sure you keep popping by to see what's new.