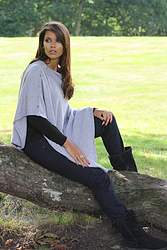 They say that beauty is in the eye of the beholder but we say everyone can do with a helping hand. One of the quickest and most effective ways to a stylish, chic appearance is with accessories. Here, at Bella Bazaar our aim is to provide seductively simple, statement pieces at affordable prices.
We design and source from all over the world for the finest quality, timeless yet up to the minute accessories. Our range is classic yet still fashionable.
Luxury fabrics and a variety of textures are the keys to a chic look. We use the finest materials, from the most luxurious cashmere to the softest leather, and it goes without saying that everything is finished to the highest standard.
So, go on get stylish by layering knitwear and accessories.