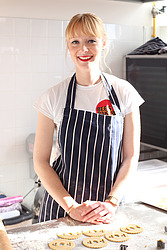 Bee's Bakery create customised cookies and cakes from the Evening Standard's list of Best Biscuit Bakeries.
At Bee's Bakery, our speciality is customised cookies and cakes. We bake cookies of all shapes and sizes, for individuals all over Europe who want a beautiful personalised gift, to corporate clients including the BBC, Topshop, ASOS and many more...
We bake cookies and cakes for launch events and birthday parties, we host decorating parties for children's birthdays and provide cookies for goodie bags and mail-outs for the media.
We love a challenge, so if you'd like to talk to us regarding a specific idea or design then please get in touch!
There are many images on our instagram page of the projects we're currently working on, check us out! at beesbakery