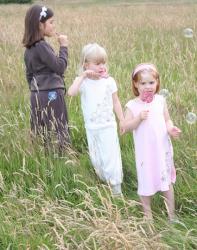 bee-bee proposes an ethical and romantic fashion range for girls. SKAL 100% organic cotton clothes decorated with pretty floral prints.
bee-bee is a new brand of organic cotton clothes for kids which respect mankind and the environment.
bee-bee's philosophy is to bring together fashion, ecology and ethics.
The collections are guided by simplicity: organic, ethical and romantic.
bee-bee - a clean, comfortable and practical style in soft, fresh and elegant colours.
With 100% organic cotton apparel certified by SKAL, the bee-bee collection is made in India by a workshop that respects the fair trade principles of the FLO (FAIR TRADE) program.