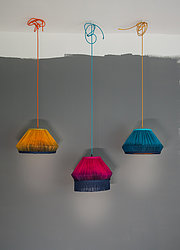 BeauVamp specialises in bespoke fabric lighting for the home. The collection includes handwoven silks, designer fabrics and woollen plaids in bold, modern colours. Perfect for your own home or as a gift.
The range features bespoke and tailor-made lampshades and lampstands designed from scratch in the UK with an emphasis on the quality of the design process combining traditional methods with a contemporary twist.
All designs are carefully made to order, creating one-off and limited editions. Each piece is unique and adds a personal touch to your home.
Commissions are welcome. If you can't find what you're looking for, please get in touch and we'll do our best to create a unique and bespoke item just for you.