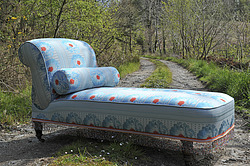 BARKER & BARKER specialise in strong elegant innovative fabrics and accessories inspired by both vintage country fabrics and retro themed prints to suit every occassion and budget.
Our experience in design and textiles helps us to produce vibrant designs focusing on texture and colour. We produce a variety of products including cushions, footstools, bespoke rugs, bed linen, throws, greeting cards, tea towels, aprons and shopping bags at affordable prices.
All our products are designed by us and produced in the UK, with the exception of our rugs and bed linen. Our beautiful rugs are hand knotted in Nepal in 100% silk or wool. Our bed linen is made in India with simple elegant designs and embroidery detail.
We do hope you find what you are looking for.