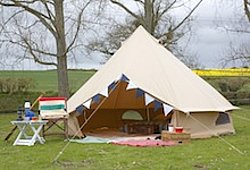 Baker + Bell is a camping boutique which brings together the very best original, practical and stylish essentials for happy camping.
The products have been sourced from great camping nations across Scandinavia, the Netherlands, the USA and the British Isles to create a unique collection, which will appeal to families and festival goers alike.
The Baker + Bell range includes bell tents, cooking equipment, furniture, bedding, lighting and some very useful tools. Vintage fans can also find a selection of pre-loved but much sought after camping classics.
Everything has been tried and tested by the team who, as keen campers were looking for useful yet cool things for their bell tent adventures and found the stock at camping superstores uninspiring.
Baker + Bell has an interesting giftware section too where you can pick up something a little different for the camping enthusiast.