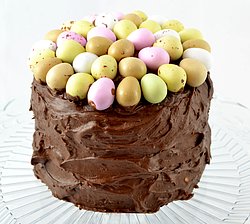 Discover Baking
Baking at home is becoming ever more popular, and is also becoming simpler. Bake at Home have created a range of artisan kits, delicious cakes along with Luxury Baking Mixes that make it possible for everyone to create something that even the most experienced artisan baker would be proud of and allowing first-time bakers to create their own masterpieces.
'Simplicity and quality are in high demand', explains Vikkie Krzyzanowski, the company's founder and creator of the Bake at Home Kits. 'Our Bake at Home Kits give you both by putting the ingredients and equipment in one box, which makes them ideal for people who want that fresh-baked sensation at home, but are pushed for time.'
The range includes an Artisan Seeded Flowerpots Kit, Pizza Dough Kit, Classic Chocolate Cake, Kids fun baking mixes: Designasaur and Cookie Couture as well as indulgent cookie baking mixes and award winning Gluten Free Baking Mixes.
It is not just people with busy lives that benefit from these kits, 'Kids really enjoy them too – it is something that the whole family can do together, and it keeps children entertained from the moment they open the box.'