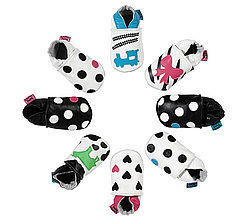 baby choes are a range of handmade soft leather baby shoes which have been designed in striking black & white designs to captivate babies' attention and stimulate their early development. Our eye catching designs look great, and encourage a baby to reach out and grab their tiny feet - helping further to develop their hand to eye co-ordination skills.
baby choes are unique and have been designed by us, inspired by our daughter Poppy (now 2 - how time flies!) They are available in two sizes: small (0-6 months) and medium (6-12 months) they are made using the softest leather and have a slip resistant suede sole for early walkers.
Our shoes have been packaged in a stylish bag which makes them an adorable gift. Both adults and babies will love them!