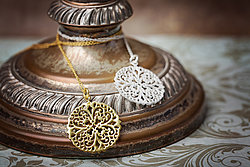 Since our founding by Creative Director, Ashley Marshall, almost 20 years ago, Azuni has been at the forefront of creating design led, wearable and affordable jewellery. As a company we are constantly creating new collections, monitoring fashion and jewellery trends, so our offer is always current and relevant to what you, the consumer, wants.
Our ethos has always been to use the best quality gem stones and findings, and offer generous precious metal plating in everything we make, so whilst we may not be the cheapest, we believe our pieces deliver great value, and should stand the test of time (and to back this up we offer a no quibble 6 months guarantee).
As a boutique brand, Azuni has often been a well kept secret, but over the last 10 years gradually a number of retailers both local and International have discovered us, and to date these number almost 350 across Europe.
We hope you enjoy what we make as much as we enjoyed creating it, The Azuni Team.