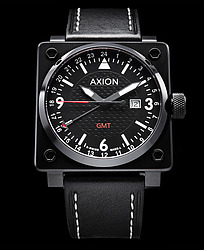 Axion is the name behind a new and unique brand of Swiss pilot's watches developed as a collaboration between British design and Swiss expertise and is the idea and dream of airline pilot, Glynn Barker. Indeed it is Glynn's lifelong passion for horology, engineering and flying that propelled him to design and craft his own bespoke brand – watches created for pilots by pilots.
Using only the very best in Swiss watch manufacturing technology, we sought to incorporate within the architecture of the watch design features that would not only address the needs of today's professional aviators, but also style a watch that would distinguish itself from other brands. It is against this backdrop that Axion has been born.
To effectively deliver the proposition, Glynn sought out the expertise of eminent Swiss watch craftsman to work with in creating the Axion watches. It is a unification that has worked amazingly well, with the distinguished Swiss watchmakers and Glynn's creativity bringing together a functional range that delivers a timeless elegance in terms of look and appeal, and one that will not disappoint any watch lover.
It will come as no surprise then that Axion watches have been created taking in additional refinements, not only delivering the time in GMT – the time all pilots work in – but also the time locally wherever you happen to be in the world. The watch face is crafted to be highly visible, essential for pilots on night flights in dimly lit cockpits. Further features deliver a range that is waterproof, scratch proof, has the essential date function and which comes with a two year guarantee.
Whilst exuding appeal amongst pilots, aviators and watch enthusiasts, the Axion brand is sure to strike an accord with international business travellers, not to mention the fashion conscious and those interested in the latest in watches/ gadgetry.