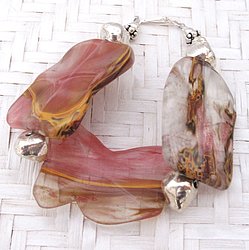 Welcome to Ava Mae Designs. Based in both Brighton and Barcelona where we split our time, we showcase individual and stylish hand made items of jewellery alongside curated pieces lovingly sourced in both cities ... and beyond ...
Ava Mae Designs was established in 2009 to create simple yet stylish items of hand made jewellery, using, in the main, sterling silver findings combined with semi precious stones. Some of our designs are limited edition or one off pieces and many items can be personalised.
In addition to designing, making and sourcing contemporary silver jewellery, Ava Mae Designs offers a fabulous selection of treasures from a bygone age ranging from stunning Victorian and Art Deco brooches to delicate 1930s handmade beaded evening bags through to striking Scandinavian modernist mid-century jewellery and fine antique 9ct gold cufflinks ... plus more treasures besides. Each quality piece has been carefully selected with a keen eye for design and detail in order to make a truly special gift.
All Ava Mae Designs products are beautifully gift wrapped and come with an Ava Mae Designs branded gift card, ready to be presented to the recipient.
Ava Mae Designs is passionate about offering fabulous products to gift, treasure and enjoy and is dedicated to providing an outstanding level of customer service so please get in touch if you have any questions or if you are looking for a particular item.
To see the full Ava Mae Designs range, please click on the 'view all' link below. New pieces are added regularly and all products are suitable for special occasions such as birthdays, anniversaries, christenings, weddings, or as a little treat for yourself.