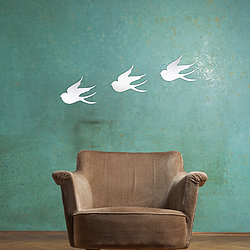 Ava & Bea are Elaine Tuke & Stephen Ryan, two Designer-Makers who love colour! Both coming from creative backgrounds, with Elaine having a degree in Fine Art, and Stephen a degree in design, they work together using interesting materials to create contemporary, quirky wall accessories and jewellery. Birds are one of the pairs favourite motifs, with swallows, doves, swans and ducks all featuring in their designs.
Elaine & Stephen are both magpies when it comes to Sourcing materials. Finding interesting new materials to use is half the fun! The pair use beautifully patterned vintage wallpaper, brightly coloured Formica, Shiny mirror and copper, and bold colour pops of Enamel, Ava & Bea mix ideas from both vintage and contemporary design to create decorative products that will enhance an outfit, or brighten up a plain wall in the home.
Ava & Bea are based in Bristol where there is a strong creative community. They live with their two young daughters, and have a studio near to home. The studio houses many other artists and craftspeople, so is a good place to work and be inspired.