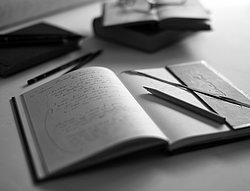 We're all about the words at 'A Touch of Verse', words that will inspire, delight and charm, words written by Janis, our founder.
It all began for our family run business when Janis's daughter Sarah was leaving home, this was a huge milestone, it wasn't about just moving to a new address and Janis wanted a card with just the right words. Despite walking the length and breadth of several high streets the search was in vain. Not to be defeated Janis put pen to paper and wrote her own verse. A few other verses followed, including one for Mother's Day, it wasn't long before praise and encouragement from family and friends gave Janis the motivation to found 'A Touch of Verse'.
You can rely on Janis to find the words you're searching for; she has words, verse and quotes to suit not only magnificent milestones and celebrations but also every day messages for those we love - Priceless.
From a bijou studio and office in Toddington, Bedfordshire Janis and her team design and create prints, gifts and keepsakes that will delight every recipient. Each piece is lovingly hand finished using the finest materials here in the UK. Gorgeous ribbons, sparkly glitter, colourful gem stones or pretty flowers are just some of the fabulous embellishments that adorn the designs.