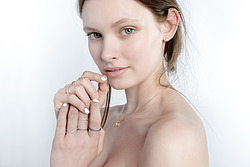 An astrid & miyu woman is sophisticated, effortless, elegant and intelligent. We have a mix of classic and trendy pieces so women can instantly update their existing wardrobes.
Since launch three years ago, astrid & miyu have become a cult jewellery brand among fashion insiders, including editors and bloggers. Our products have been featured in influential publications including Stylist, Observer, Marie Claire, Company and Brides.
Co-founders, Connie and Jenny worked in the competitive world of finance in Hong Kong and New York, respectively, before meeting each other in London. While they were in the corporate world, the only way to express their personal styles was through jewellery. But it was always difficult to find a go-to destination that had the design, quality and price points they were satisfied with. By working directly with independent designers with experience with luxury designer brands, Astrid & Miyu are able to bring quality designer pieces at sensible price points.
Astrid is a Nordic name, and Miyu is a Japanese name. They both mean 'exceptionally beautiful' in their languages.