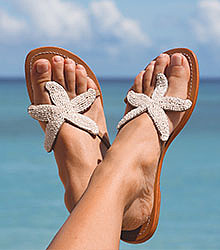 Aspiga offers a range of gorgeous handmade fashion accessories; including leather and beaded elegant sandals, flip flops, belts, jewellery and baskets from Africa & India.
All products are handmade by local ladies, ensuring no one product is the same.
Aspiga supports Fair Trade.
In 2012 we expanded our range quite extensively realising that customers are normally shopping for their holidays, so we now sell some fantastic swimwear and beachwear brands, along with great jewellery and accessories - hopefully making us your ' One Stop Holiday Shop'.
We now have 6 suppliers in Kenya (where the majority of out sandals are made), who are individuals with small work forces ( not large factories), giving much needed jobs to local men and women in their community.