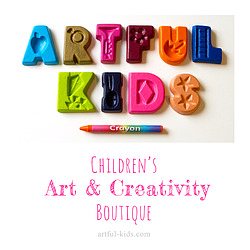 Artful Kids is a children's Art and Creativity Boutique, which aims to bring to you a unique, individually sourced and hand-picked collection of good quality and hard to find creative products for both children and the 'young at art',
We love children's artwork and established Artful Kids because we felt that it was often not valued as much as it should be, being relegated at best to the fridge door, before becoming crumpled and dog-eared and thrown away. However children's artwork, much more than a photograph, can offer a window into a child's personality, their likes and dislikes, and what they think and feel. Their artwork has an unselfconscious freshness and orginality which is lost only too soon, and with proper presentation it can look stunning in any room of the house.
So we developed a service to create original personalised wall-art, gifts and keepsakes from your child's paintings and drawings. We take a child's original artwork and digitally edit it to present it at its best, without losing the integrity of the original. The resulting artwork can be showcased as a framed gallery or portfolio poster, a reproduction print, or as a colourful modern canvas. The service which we offer is entirely bespoke in that we treat every piece of artwork as unique, and we work with you to create a finished item you are 100% happy with. Alongside this we also offer a range of items which will help you to showcase and display children's original artwork in the home.
We are always adding to the range of products that we offer, so check back often if you are looking for something special for that budding artist, the creative person in your life, or even a very special gift for grandparents to treasure.