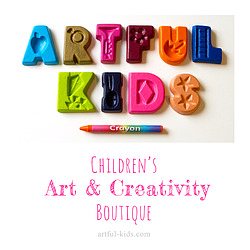 Artful Kids was born from a personal love of children's art, and a feeling that adults have lots to learn from a more child-like approach to creativity. As Picasso famously said: 'Every child is an artist - the problem is how to remain an artist once we grow up'.
There is nothing quite like a child's artwork for revealing the personality of a child, and yet we felt that children's artwork is rarely given the appreciation it deserves. While families will often spend large amounts of money on styling a child's photograph for the living room wall, the same child's artwork, with all it's imagination and personality, is frequently relegated to the fridge door.
The expressive confidence of children's art is such a fleeting yet important part of their childhood, and we started our business by looking for ways to display it at it's best, sourcing different ways of using it for gifts, keepsakes and in the home, and offering a service that digitally edits their artwork while maintaining the essence and integrity of the original.
We believe that children's artwork, when presented at its best, can offer the contemporary home a form of completely unique, lasting and original wall-art that provides more meaning than commercial or mass-produced products can ever hope to offer.
However as time has passed, we have gradually expanded our offering to include a range of complementary creative products for both children and the 'young at art' sourced from all over the world. We love to spend time researching good quality, well-designed, creative items that are difficult to find elsewhere, and because of this we have often found ourselves acting as the first stockists of a particular product in the UK. It is this aspect of Artful Kids which is our focus in our Notonthehighstreet store.
We are a small business who takes pride in offering our customers the very best level of service that we can. Artwork is produced entirely to a customer's requirements on a fully customised basis, while our wider product range remains eclectic, personal and quirky. As such we like to think we are completely unique…!