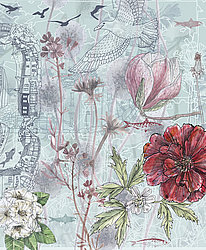 Armitage Design creates exquisite silk scarves to cherish. Each piece is handmade in Cornwall, adorned with beautiful textile prints inspired by Claire Armitage's sketchbook drawings and illustrations. The prints are rich in narrative, blending floral and nautical imagery with literary references to poetry and fairytales. Each scarf is finished with delicately layered edgings, and hand-embroidered details.
These luxurious handmade silk scarves come in a range of styles and sizes including skinny, medium and large wraps.
Textile designer Claire Armitage works from her studio in Trewidden Gardens, Cornwall, where the beatutiful subtropical gardens and nearby fishing harbour and coastline inspire many of her drawings and designs. Claire has also worked as a freelance costume designer for nearly a decade and is a lecturer at University College Falmouth.