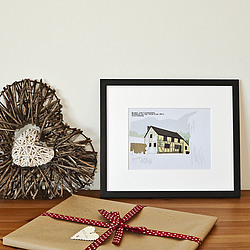 ArchiTrait is based in rural Herefordshire and is run by Elly Deacon Smith, architect and mother to two young girls.
ArchiTrait was born out of Elly's love of drawing buildings and her desire to create unique and truly personal gifts for her friends. Inspired by the sketches and graphics she produces of her own designs, Elly decided to create personalised portraits of the places that were important to them.
ArchiTrait was created in 2012 offering a range of personalised portraits designed to act as individual, unique and beautiful reminders of those really important moments and special places that you'll never want to forget.
Working from your photo, Elly will hand draw the portrait before adding colour on the computer to create a stylish and modern illustration. Each portrait is lovingly and professionally made using the highest quality materials to ensure this gift will not only be a joy to receive, but a pleasure to give!