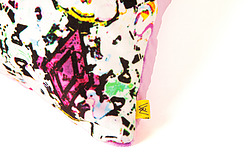 Welcome to the kaleidoscopic story telling design label!
At Archie Mac London we create playful, bright home and fashion accessories, all made in the UK. All our designs contain a hidden story, often inspired by personal tales from childhood.
UK production is something very close to our hearts. All our fabrics and products are printed in the UK, and where stitching is involved, it's all done in Brixton by designer Robyn and a team of local craftspeople.
We're really passionate about providing opportunities within our local community and will continue to use the talent within our community to create beautiful handmade products.