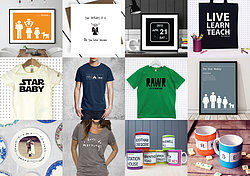 A Piece Of has been designing and selling personalised products since 2008 as memorable individualised gifts.
They brighten up and add a special touch to the home. Over the years our hobbies t-shirts, "personalised family" posters and tote bags have proved to be enormously popular.
A Piece Of was born from our big passion for graphics and illustrations and our urge to create personalised posters for our own homes. We always knew there were people like us out there, who just wanted to add a little bit of character to their walls.
We hope you will love our vibrant and original graphics as much as we and our friends do. Hopefully you will find something to brighten up your own home or a friend's.
Thank you for visiting our shop!