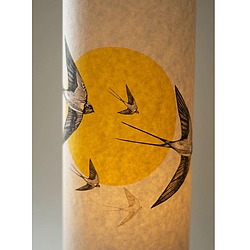 A Northern Light created by Claire. Claire is a designer/maker who creates handmade paper lamps, lampshades,and interior products that feature one of her own hand drawn illustrations. Claire's inspiration comes from the natural world, patterns and graphics. Each lamp, lampshade and candle cover is finished with a solid wooden ring that completes the natural and simple look of the product.
Claire grew up loving painting, art and creating things and always had an ongoing creative project of some sort be that illustrating painting and sewing. She always came back to illustration but felt something was missing as she wanted to design something physical that could sit in her home.
She began to explore whether she could put her illustrations on lamps. However, in truth had no idea of how realistic or feasible her idea was, therefore she began to spend many hours researching how to make lighting and various homeware products.
The desire to be able to pursue a career from making grew and A Northern Light was created.
'I absolutely love A Northern Light. It puts a smile on my face every day and fills me full of excitement, creativity and happiness'. - Claire