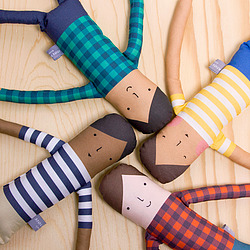 I'm Ann Moore, the owner, maker and designer behind Ann Moore England, a little studio creating textile goods, clothes and toys for kids and kids at heart!
Having worked as a graphic designer for a fair few years, I started Ann Moore England in 2010 as a creative outlet. After many late nights and long weekends, I took the plunge in 2013 to pursue Ann Moore fulltime.
'Little People' originated as present for my friend's newborn baby. She had moved to the other side of the planet and as my husband and I wouldn't be able to see the baby in person, I wanted to send her something special and personal. I created miniature versions of us so we could be there for the baby and that he would grow up knowing who we were. Then I made my little versions of my sister and her husband as a Christmas present. Friends really liked them so I started making some more. Since then it has just escalated and there are now over 30 Little People – all based on friends and family and all with their own personality.
I also design and make children's knitwear and accessories with the same bold graphic language and attention to detail.
I strive for my designs to be bold, simple and timeless but full of personality. They are modern, yet simple and with a playful twist – full of British sensibility. All my products are designed and handmade by me. I devote a lot of time sourcing the most child-friendly and durable materials of the highest and softest quality.
I work from my home studio in London (which used to be the spare bedroom). Here I design, cut, sew and knit – and stuff all those long dangly limbs! I love what I do and hope you enjoy my range of as much as I enjoy making it.
Thanks for stopping by. If you have any questions or would like to say hello, I'd love to hear from you.