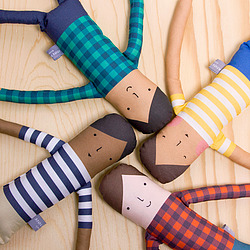 Ann Moore England is a small creative studio based in London, run by me, Ann Moore. Hello! I design and make textile goods and soft toys.
The Little People range of dolls originated as miniature versions of me and my husband as presents for our friend's baby. Since then the range has grown to over 30 Little People – each with their own style and personality.
Kids love our Little People and they make great gifts. Instead of a generic soft toy why not give them a Little Person who looks like someone they know? It could be a miniature version of themselves, their friends, or their family.
Little People have also proven really popular amongst adults. Want to give the bride and groom little versions of themselves as a wedding present? Or pick the one that looks the most like you to give to your loved one.
I strive for my designs to be bold, simple and timeless but full of personality. All my products are designed and handmade by me and I devote a lot of time sourcing the best and most durable materials of the highest and softest quality.
I love what I do and hope you enjoy my range of as much as I enjoy making it.