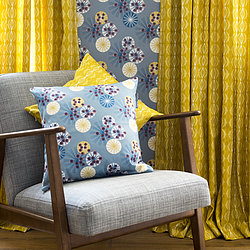 Annabel Perrin is a surface pattern designer with a vibrant, mid-century modern range of homeware. Her bold and graphical patterns are available on furnishing fabrics, home accessories and ceramics. The eclectic collection is guaranteed to liven up your home.
British locations and landmarks inspire Annabel's designs. She focuses on the aesthetic appearance of architecture, the structures, patterns, outstanding features and light reflections. However, the stories and memories behind each landmark also intrigue her. Annabel's mid-century colour palettes are also distinctive of her style.
All products are lovingly designed and made in the UK, and are produced in short run supply to guarantee customers exceptional quality and a unique product for their home. Each item is designed to be enjoyed beyond the latest trends and to brighten up living rooms for years to come.