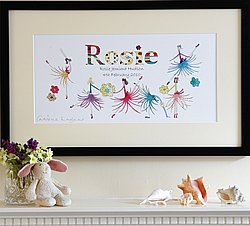 If you are looking for refreshingly different presents for children ages 0-10, then you will find the Animurals range of personalised gifts inspiring.
The range includes Personalised Clocks in 12 different designs; fun and unusual Name pictures in 5 designs; wonderful Birth and Christening pictures where you can add the full name, date, time, weight, church etc and Contemporary square name pictures -ideal for the slightly older children.
Pictures come mounted and can be framed and POSTAGE IS FREE!
All the art work is by illustrator Catriona Lutyens and designs include wild and farmyard animals, tractors, dinosaurs and fairies.
Fresh, colourful and FUN, these make the perfect Christmas, Birthday or Christening present.