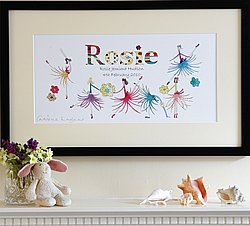 I started Animurals in 2001 after returning from a holiday to my country of birth, Kenya, to show my husband and our 3 children where I had grown up. I had painted pictures for my 3 children when they were born which were full of wild African animals and it was lovely to see their reaction to the "real" thing.
It was very hard to find Personalised, British made, Name pictures that were fun and unique and very soon I was painting commissions for friends - and Animurals was born.
15 years on and Animurals is still just me, Catriona Lutyens, with part-time help with framing and packing from the wonderful Fran and at busy times any family who can be roped in! The emphasis is always on British made quality. All the art work is mine with designs to make you smile including wild and farmyard animals, tractors, dinosaurs and ballerinas.
Name pictures can include the child's full name, birth or christening details and are printed on white textured paper with a lovely cream mount. Framing is available.
The clocks in 12 colourful designs have a silent, Quartz mechanism.
Standard delivery is 7-10 days but is frequently quicker.
Enjoy!