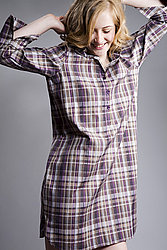 Angelily offers chic, stylish nightwear and loungewear using luxury Egyptian cotton.
The concept for Angelily began in May 2006 with its founder, Angela Armsby. After resigning from her job as a retail buyer in the UK, Angela moved to Cairo to accompany her husband on an overseas job posting. Combined with a desire to run her own business and a constant quest to find luxurious, well-made lounginewear at affordable prices, Angelily was born.
Being in Cairo, Angela had access to luxurious Egyptian cotton. Finding inspiration in these fabrics, she started designing her own collection of nightwear and loungewear.
Each garment is designed and manufactured with love and care in Egypt. We use our finest quality Egyptian cotton where possible and ensure each piece is made to a very high standard. Attention to detail is of the utmost importance to Angelily, as you will see from the special details we add to each garment, including embroidering our signature lily.