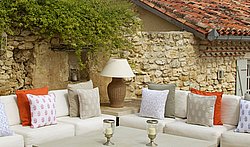 Andara's products are almost all handcrafted or hand printed, made in India and Morocco using traditional techniques. The result is a beautiful selection of cushions, table linen and other stunning accessories for your home. Our mission is to go directly to the source, to ensure absolute quality control and maintain our prices at an affordable level.
With the emphasis on beauty, comfort and style, we design and directly commission our entire range. We passionately believe that it is possible to provide people with unique, high quality and desirable products with a realistic price tag.
Andara was co-founded less than a year ago by Sophie Gaze and Tiff Seaward who have been friends for 15 years. They both come from backgrounds focussed on design in the home and have a passion for textiles and hand crafted products. Having continuously dreamt of creating a new and fresh lifestyle brand the idea of Andara was finally born in the spring of 2010.